Today I'm linking up with Neely and Ashley for another Sunday Social!! :)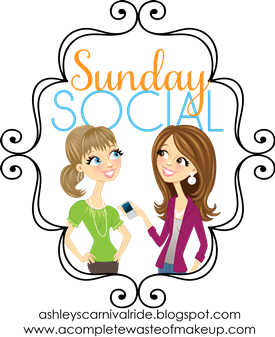 This Week's Questions:
What is your favorite store to shop at?
Oooh, there are so many to choose from! Hmm, a few favorites would have to be Ann Taylor Loft, Macy's, Nordstrom, Target, and H&M.. :)

If you could afford anything and everything, which designer brand would you covet?
If I could afford anything and everything (which unfortunately I can't!), I would be in Michael Kors and Dior clothing, Christian Louboutin shoes, and be carrying the nicest Louis Vuitton purse you could imagine! :)
Michael Kors--so cute!!
I like! :) Too bad I'd probably trip and fall in these...sigh...
Cardigans! I have one in just about every color, every fabric, even some adorable ones in different patterns--they are what gets me through winter...(how sad does that sound? Haha!)
Why hello pretty purple cardigan! Why are you not in my closet?

Favorite kind of shoes? (brand or type)
Finding shoes for my teeny tiny feet (size 5.5 on a good day) is a little tricky. Honestly, I buy most of my shoes at Nordstrom because they are one of the few stores where you can find good deals on cute shoes in smaller sizes.

Best clothing deal you've ever gotten? (sale or amazing find)
Haha, probably my NorthFace fleece that I got off of EBay (totally random I know), brand new, half off of the regular price and I wear it all the time! Love it! :)

Style you'd love to try?
I absolutely love maxi dresses, especially in the summertime and I really want to get one, but I just don't know how they would work on me...I'm only 4'11 and I think that much fabric would either be ridiculously too long or just look too weird..I think the key would be to look for one in the petites. Hmm, something to think about!